Thank you for visiting the Office of Institutional Equity's website.
Due to University guidance relating to COVID-19, our staff is working remotely; however, OIE remains available.  Please contact us using our Reporting Form or by email at equity@uconn.edu and someone will respond to you promptly.
The Office of Institutional Equity (OIE) ensures the University's commitment and responsibility to foster equitable and inclusive working and learning environments. Our work focuses on administering the University's non-discrimination policies, as well as ensuring compliance with state and federal laws and regulations related to equal opportunity and affirmative action, including but not limited to the Americans with Disabilities Act (ADA), Title IX of the Education Amendments Act of 1972, Title VI and Title VII of the Civil Rights Act of 1964, and the Connecticut Fair Employment Practices Act. This includes OIE serving as the office of the ADA Coordinator and Title IX Coordinator.
The entire University community has a shared responsibility to promote affirmative action and provide equal opportunity in order to ensure non-discriminatory work and learning environments.
To learn more about OIE's work, we invite you to review our brochure. To learn more about employee reporting obligations, how to make a report and what happens after a report is made we invite you to watch this brief Discrimination, Harassment and Related Interpersonal Violence: Reporting Obligations & Next Steps Compliance Clip.
Helpful University Resources and Contacts
University Resources List - Storrs and Regionals
University Resources List - UConn Health
Creating an Inclusive and Affirming Workplace for Transgender Employees: A Guide for Employees
Office of Faculty & Staff Labor Relations (LR)
Office of University Compliance
Office for Diversity & Inclusion/Chief Diversity Officer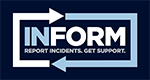 Inform is a tool to help the UConn community navigate the reporting process and support available for a variety of incidents including bias, harassment, safety concerns, and other types of misconduct.
Upcoming Training Sessions